Cash flow, or more precisely, poor cash flow, can be hugely detrimental to businesses. Often a result of late paying customers or long invoice terms, business owners are left strapped for cash scrambling to try and make ends meet. For most, funding options are limited, and business doesn't stop while waiting for approval.
Recruitment and labour hire fare worse than most when it comes to their payment terms – on average recruitment and labour hire companies have to wait 42 days to be paid AFTER their payroll costs – this is a huge cash flow gap.
Recently, the Australian recruitment and labour hire services industry has seen a massive jump in cash flow demands. The recruitment industry suffers from one of the greatest late payment cultures in the country, and with financial demands continuing to inflate, the cracks in resources for recruitment services start to appear.
One of the largest costs for recruiters is wages, a total cost of around $10.3 billion annually against $15.1 billion in revenue. With an average of 42 days gap between payroll costs and customers paying, you can start to see why recruitment and labour hire can be a challenging business to balance cash flow.
Timelio understands these challenges, and that's where the turtle comes in! Check out the turtle story here.
Aimed at eliminating the financial implications of slow payments for recruitment and labour hire companies, our latest campaign has been created to help give these companies access to the funding they need, when they need it. In our experience, traditional finance providers don't understand the unique challenges faced by recruiters, and don't provide funding that is flexible and agile enough to cater for their needs. We do.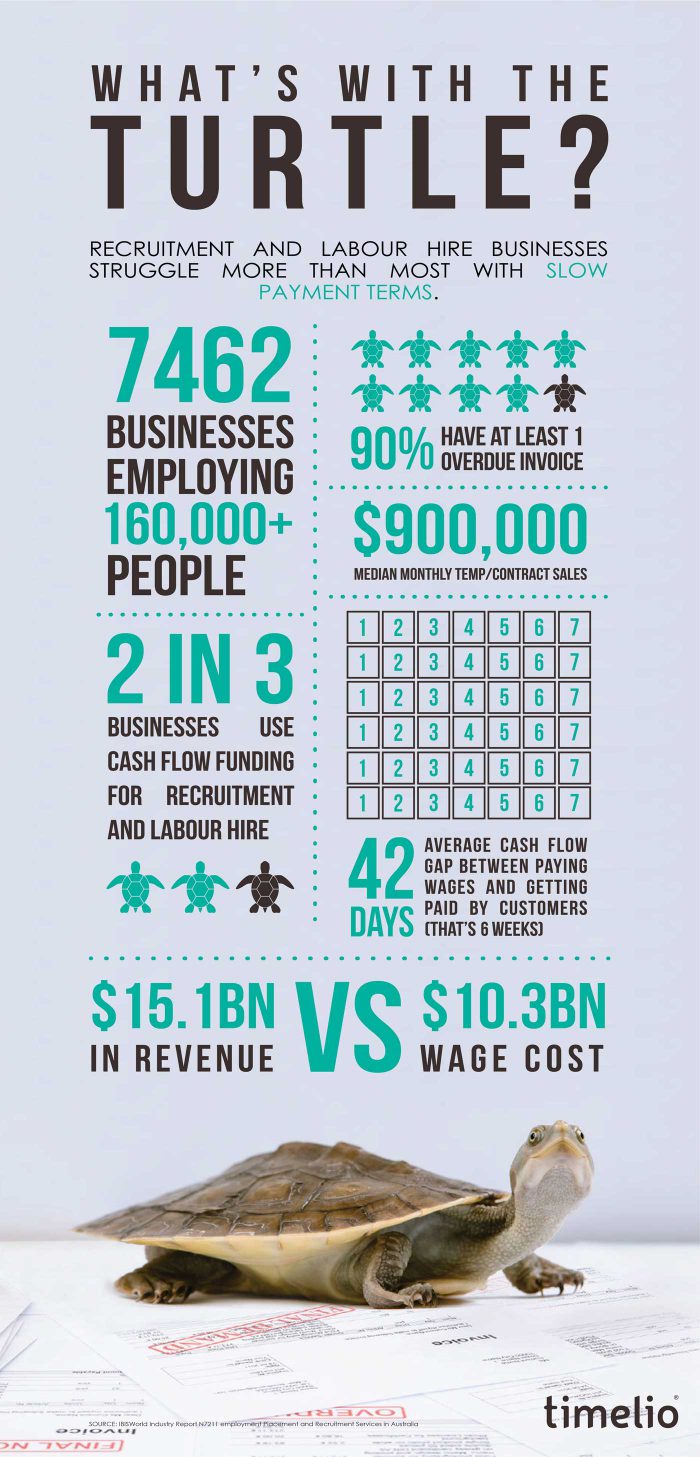 So how do we help?
It's simple. Timelio's invoice finance allows businesses to get their unpaid customer invoices paid before they're due, for a small percentage of the total invoice value. This cuts out the waiting period and provides certainty, allowing businesses to get their unpaid invoices paid in 24 hours (and up to 100% of the invoice value!). We want to give business owners and finance teams control over their cash flow by allowing them to decide exactly when and how much money will be available to them.
With unemployment rates predicted to continue to fall over the next five years, the boost in demand for recruitment and labour hire services is inevitable, and to maximising growth will require good cash flow management.
If you want to find out more about how invoice finance can be used for recruitment and labour hire, get in touch with our Invoice Finance Manager, David Webster on 1300 38 63 63, email dwebster@timelio.com.au, or click here to get a quote.